The Sigma Group, founded in 1978, primarily focuses on secondary aluminum smelting and metal scrap trading. Sigma has sizeable plants in Kaohsiung (Taiwan), Shanghai (China), Zhangzhou (China), and Chongqing (China), with over 2,500 employees and an annual turnover of 1 billion US dollars.
  Sigma Brothers, Inc. in Kaohsiung was established in 1987 and has a monthly production capacity of 6,000 MT. Shanghai Sigma Metals was established in 1993.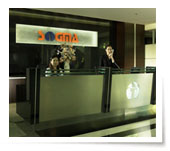 It has a monthly production capacity of 25,000 MT, and is the largest secondary aluminum smelter in China. Zhangzhou Sigma Metals began operating in March, 2007, and was established on the basis of the buyout of Tsann Kuen's Zhangzhou smelting plant. It currently has a monthly production capacity of 15,000 MT. Chongqing Sigma Plant plans to operate in 2011,which has a monthly production capacity of 50,000MT.With these 4 smelting plants, the Sigma Group has an annual production capacity of approximately 650,000 MT.
 The Sigma Group owns three LME-registered brands of aluminum alloy ingots: "SBI" for Kaohsiung , "SSM" for Shanghai and "ZSM" for Zhangzhou. The brands were registered with LME in 1992 and 1996 respectively, and the Sigma Group was the first secondary aluminum smelter in Taiwan and China to be registered with LME. Shanghai Sigma has adopted ISO9001, ISO14001, OHSAS18001, and TS16949 standards as the guidelines for its entire operation, and was also awarded the honorary title of "Model Enterprise for the Circular Economy" by China's National Development and Reform Commission.
 In 2006, approximately 70% of Sigma's products were exported to Japan and other Asian countries. Sigma's main export customers are automobile manufacturers such as Toyota, Honda, Nissan, Suzuki, Mazda, and Yamaha. Sigma's aluminum alloy exports represent 50% of China's total aluminum alloy exports, and 40% of China's aluminum alloy exports to Japan. The remaining 30% of Sigma's products were sold in the domestic market, mainly to customers in the automobile, home appliance, decorating, and IT industries. With the rapid development of China's automobile market, Sigma's domestic sales have also increased at a rapid pace. Sigma has the highest domestic sales volume out of China's secondary aluminum smelters.
In April 2004, the Sigma Group and Daiki Aluminum Industry jointly founded Daiki-Sigma Engineering (China) Inc. Its primary purpose is to deal with the designs, production, and sales of various types of furnaces for the aluminum casting industry. Examples include melting furnaces, holding furnaces, and crucible furnaces. It also provides technical advice and support for related matters.
In February 2007, Sustineo Biotechnology Co., Ltd. was established in Tainan, Taiwan. It is a research based company with main business model involving the development, design and licensing of our intellectual properties. It's research activities are mainly focused in renewable energy, cosmetics and medical devices.
Sigma International, Inc. was established, and grew, in conjunction with the Sigma Group. The company deals with the import and export of seafood, primarily that of crabmeat. With over 30 years of experience, and bearing the "Sigma" brand name, Sigma International, Inc. enjoys a prestigious reputation in the seafood industry.
l The Sigma Group will always diligently adhere to its principles of honesty and integrity, conservation, and environmental protection so that it may achieve its goal - RECYCLING FOR A BETTER TOMORROW.